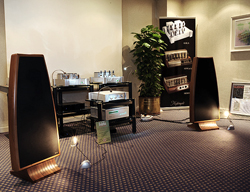 Nightingale Hi End Audio Equipment is manufactured by Simetel SpA, an Italian company operating in the telecommunications field since its foundation, in 1959.
In 1995, a small group of Simetel engineers with a passion for music designed the first Nightingale tube amplifiers and urged the company management to market them. This is how the brand Nightingale was born. Since then, Nightingale has grown steadily to quickly become a leader name in the Italian market of equipment for high definition sound reproduction. In addition to new and improved amplifiers and preamplifiers, Nightingale designed and manufactured a set of line conditioners and power supply control systems, with the purpose of reducing noises and wave shape alterations that are often present in power supply lines. More recently, the new brand of Concentus open baffle loudspeakers has been created, to join and complete the collection of Nightingale equipment.
Nightingale and Concentus are presently sold throughout Europe (UK, France, Norway, Greece, Russia) and Hong Kong.